March has been a tough month. It could be said that everything that is major in my hubby and I's livelihood (and then some) has taken a 180-degree turn.
First
, my hubby's job. It's been a temp job for the past year+, and is one he has loved and still would enjoy continuing. However, the company he works for just doesn't have the budget to add an extension, let alone bring him on as a regular employee. So when his position ends at the end of this April, it seems like that will really be it, despite how much his coworkers and boss seem to wish it'd be otherwise.
We've known since this past November that he may not have an extension added to his job after April, and we've been looking for another job he could apply for even before then. He's applied to several places and had a few interviews, but nothing further. Now that it's the end of March, we're trying not to fret and put hope in God's timing and provision, but I'd be lying if I said we don't still worry from time to time about it. However, we're working to stay positive and continue to put our trust in God.
Second
hit of the month: My hubby's car engine started making horrible clunking and rattling noises. The car is 7 years old and has only 120k miles on it, so we decided to ask my father-in-law, who is a mechanic (his specialty is older cars), to help my hubby take apart the engine and try to figure out the problem. Hubby has spent countless evenings and weekends at the garage this month (I haven't seen my hubby much this month as a result), spending money on replacing things like the timing chain and such, but it's still been guess work. As of this past weekend, the car engine no longer even starts. When this happened, my hubby quipped,
"Well, at least it no longer makes that rattling noise."
Heh, gotta love the guy.
We've called several garages since then and they have quoted at least $1k to look at it (eeks). No guarantee they'd be able to fix it either.
We do have money saved away for emergencies, but we'd naturally rather not buy a new car anytime soon if it can be helped, especially with no certainty of an income in the very-near-future. So option one of spending $1k is probably what we'll be going with...hope it works...
Thirdly
, my cat, Cami, who was such a sweetheart, got hit by a car and died. I raised her from the first day she was born. (the pic below is from when her eyes were just beginning to open - kittens are born with their eyes sealed shut for the first 2 weeks).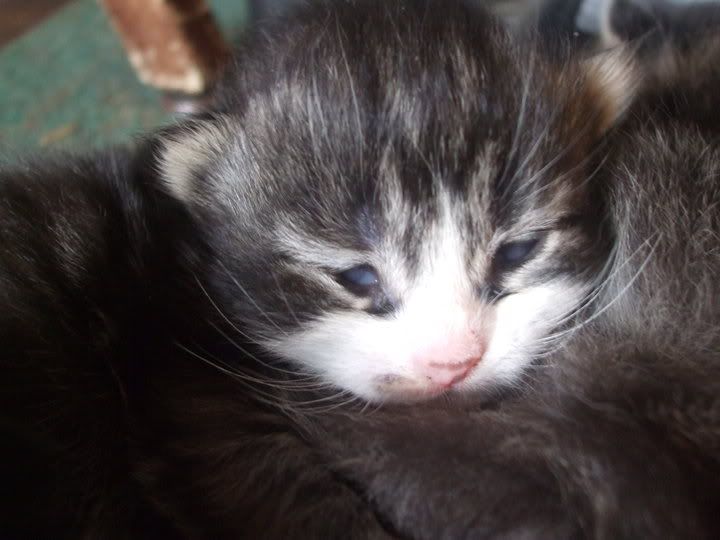 She would have been only two years old as of yesterday.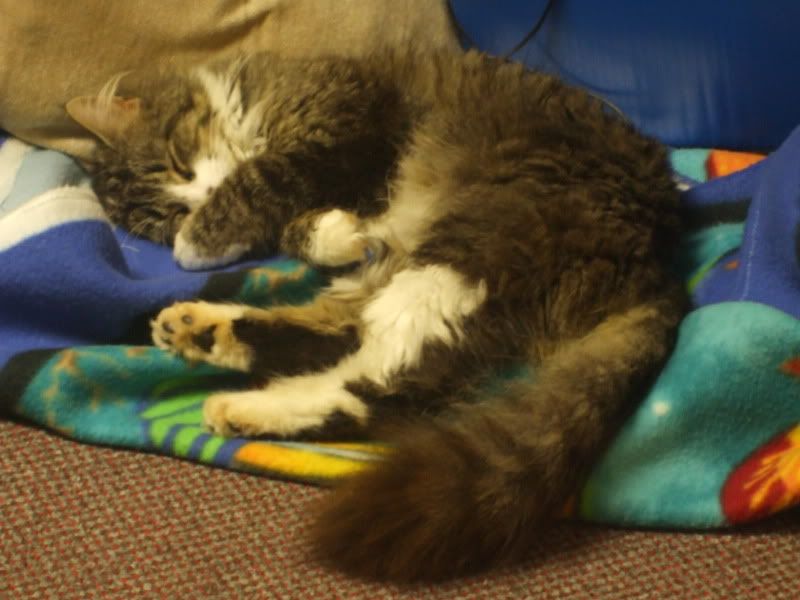 Her death occurred in the same week that my husband's engine started to have troubles. It was not a good week.
Thankfully, my hubby has been able to carpool with his longtime friend, who is also his co-worker, to his job during these car troubles. But on Monday, the friend was sick, so hubby had no way of getting to work, and had to take a sick day. Tuesday isn't looking promising either for the friend going to work, but we've thankfully received a car to borrow just for Tuesday.
We'll get through the rest of this week day-by-day. Hopefully the friend will get better by Wednesday...
You have to decide whether to cry or laugh when you go through rough patches. We're deciding to laugh and keep each other positive when one is feeling the stress. Silver lining, all of these unfortunate things happening to us has made my hubby and I feel like even more of a team. We're trying to keep faith that all will work out in the end, that things won't always be like this. We'll get back out of this valley.
"I learned there are troubles of more than one kind. Some come from ahead, others come from behind. But I've bought a big bat. I'm all ready, you see. Now my troubles are going to have trouble with me." -- Dr. Seuss
"
That some good can be derived from every event is a better proposition than that everything happens for the best, which it assuredly does not."
-- James K. Feibleman
"Count it all joy, my brothers, when you meet trials of various kinds, for you know that the testing of your faith produces steadfastness. And let steadfastness have its full effect, that you may be perfect and complete, lacking in nothing."
-- James 1:2-4
"Trust in the Lord with all your heart, and do not lean on your own understanding. In all your ways acknowledge him, and he will make straight your paths."
-- Proverbs 3:5-6
p.s. - the friend just got on chat as I was finishing this entry to let me know he is well enough again to go to work on Tuesday. Hubby will have a ride on Wednesday. :) Isn't that just awesome?
Update:
To see how things have progressed since March with Karl's employment, see this post.